ABOUT US...
The Steele County Astronomical Society, SCAS, organized to share common interests in amateur astronomy. We are affiliated with the Astronomical League.
We are active in South Central Minnesota. SCAS members meet in Owatonna, MN at 6:30 P.M., on the first Thursday of every month at the Owatonna Public Library, upstairs Gainey Conference Room.
Owatonna is located at 44.1 latitude and 93.22 longitude. Outdoor sky viewing events are planned when the weather permits.
All members of the public are welcome.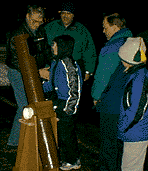 The club has two 6" reflector telescopes equiped with a Telrad finder. The scope is available for members to borrow. We also have an 8 inch SC used for education.